How lucky are we to be in the middle of autumn? All seasons shine beautifully in beautiful Whatcom County, but there is something very special about fall – with its leaves turning, apple trees teeming with fruit, pumpkins galore and so much more. Check out WhatcomTalk's list of area fall festivities.
Be sure to note the COVID guidelines and call with any questions before you go.
Stoney ridge
Stoney Ridge Farm, 2092 VanDyk Road in Everson is open in October from noon to 5 p.m. on Friday and 10 a.m. to 5 p.m. on Saturday. School visits take place on the mornings of Friday October 15 and 22. Please call the farm for more information and to schedule a visit.
WECU is proud to be the title sponsor of this year's Stoney Ridge Farm Fall Festival, which takes place October 9, 16 and 23 from 10 a.m. to 5 p.m. picking apples.
The first 100 WECU members to present their debit or credit card will receive free entry. And be sure to keep an eye out for the WECU logos hidden throughout the farm, which can be redeemed for prizes at the WECU booth.
Cicchitti's pizza truck will be at the farm on Saturday.
The admission price of $ 3 per person includes parking, admission, wagon rides, the corn maze, farm animal displays, and the opportunity to take as many photos as possible. Animals are not accepted, with the exception of service animals.
The cafe will be open, with mini cider donuts and pumpkin donuts, as well as hot apple cider. Be sure to grab some Jonagold apples to snack on while you search for your perfect pumpkins or choose from a range already chosen for you.
Fall and Christmas decorations and crafts will also be available, including plenty of gourds, gourds, and ornaments to decorate.
Only cash or checks are accepted, no credit or debit cards, and a WECU ATM will be available on October 9, 15 and 23 at no charge for all member of the credit union. For more information call 360-966-3919 or visit Stoney Ridge Farm's Facebook page.
Bellewood Farms
Celebrate the apple harvest and it all falls to Bellewood Farms, 6140 Guide Meridian Road, 9 a.m. to 5 p.m. Wednesday to Sunday, October.
Enjoy a free train ride with apple bins (daily until 4 p.m.) through the orchard and out of the corn maze. Fresh cider donuts and kettle corn are available, and a field full of pumpkins is for sale. Enjoy fresh cider, caramel apples and a farm-fresh apple pie.
Adults can tour the tasting room at the newly renovated distillery and sample free sips of farm-to-bottle spirits made with Bellewood apples and pears.
Bellewood Farms will be hosting its annual Ciderfest on November 13 from 1 p.m. to 5 p.m., featuring cider tastings from local cider houses, a house beer contest, community canister refill, live music by Stringband Weather Sweater, bonfires, food, a best fall jersey contest, raffle prizes, and more. Tickets are available now via Eventbrite.
For more information call 360-318-7720 or visit Bellewood Farms Website Where Facebook page.
The western town of Cramer
Dan Cramer's 10-acre farm at 956 Van Dyk Road was owned by Dan's grandmother who traveled to Whatcom County in 1900 from North Dakota on horseback and wagon.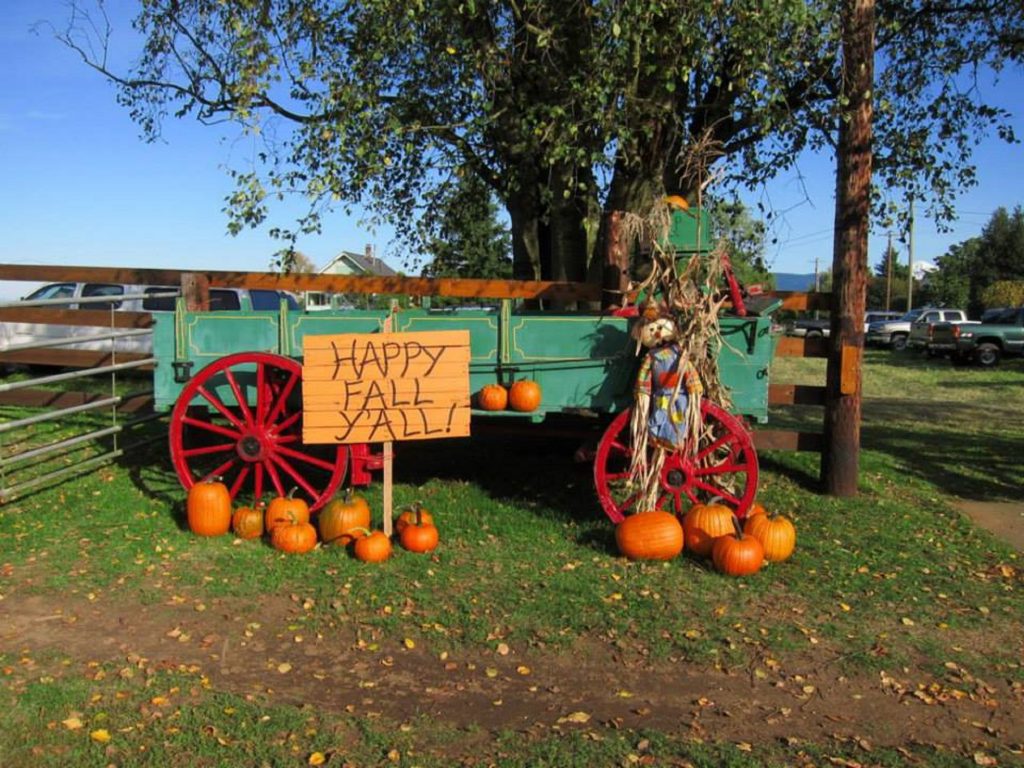 Surrounded by mountain views, The western town of Cramer dates back to 1979. Dan wanted to create something unique so that people would come and enjoy the animals and the atmosphere on the farm.
Cramer's Western Town offers free parking, pony rides, the fun zone (activities for little kids, like a hay jump, duck push-up races, a corn pool to play in, and more), antique tractor-drawn barrel train rides, a draft horse ride, wagon rides to the pumpkin patch, a maze of barn hay and farm animals of all types, plus plenty of opportunities of photos.
Weekdays, Dan says, are used for school outings and, aside from October, it hosts weddings, company picnics, and other gatherings. A party barn is available for hire.
"We aim to give people a farm experience and we're always trying to get baby animals for the pumpkin patch," Dan says. "Right now we have baby pigs and a miniature baby donkey. "
Funny anecdote: scenes from the 2012 film »Mountain runners " were filmed on site.
The hours are from 10 a.m. to 5 p.m., Friday, Saturday and Sunday. Admission is $ 3 and is free for children under 2 years old. For more information call 360-510-7466 or visit dancramerswesterntown.com Where Facebook.
Hal's Pumpkin Patch
Hal's Pumpkin Patch, 5249 Imhoff Road in Ferndale, is open daily from 10 a.m. to 6 p.m. until November 1. Cash, credit cards and checks are accepted. Call 360-389-8378 for details.
Willetta Farm
Willetta Farm, 1945 E. Badger Road in Everson, is open 10 a.m. to 5 p.m. Saturdays and Sundays and 10 a.m. to 1 p.m. Fridays through October.
Pick your favorite pumpkin from the patch for carving or decoration. They have pumpkin sales, baked goods, drinks (including hot apple cider), and homemade crafts. They will have horse drawn wagon rides and animal watching.
Call 360-220-9336 for more information or visit the Willetta Farms Facebook page.
Bellingham Farmers Market
Bellingham Farmers Market, Depot Market Square, 1100 Railroad Ave., hosts a pumpkin hunt from 10 a.m. to 2 p.m. October 30. Pumpkins will be placed around the farmers market with a tag attached. These pumpkins are free! They encourage people to take the pumpkins home, decorate or carve them, and mark the event on social media @bhamfarmersmkt. Please limit one pumpkin per family. Disguises are encouraged. More details on Facebook.
Fairhaven Chicken Festival
Inauguration of Fairhaven Chicken feast will take place on Saturday October 16, from approximately noon to 5 p.m., on Green village, organized by the Fairhaven Association. For more information on this new community event, check out our previous WhatcomTalk story.
Featured photo courtesy of Bellewood Farms

Source link